Offering Intensive Deep Cleaning and Water Damage Restoration Services
Get your Premises Thoroughly Deep Cleaned and Restored to its Original Form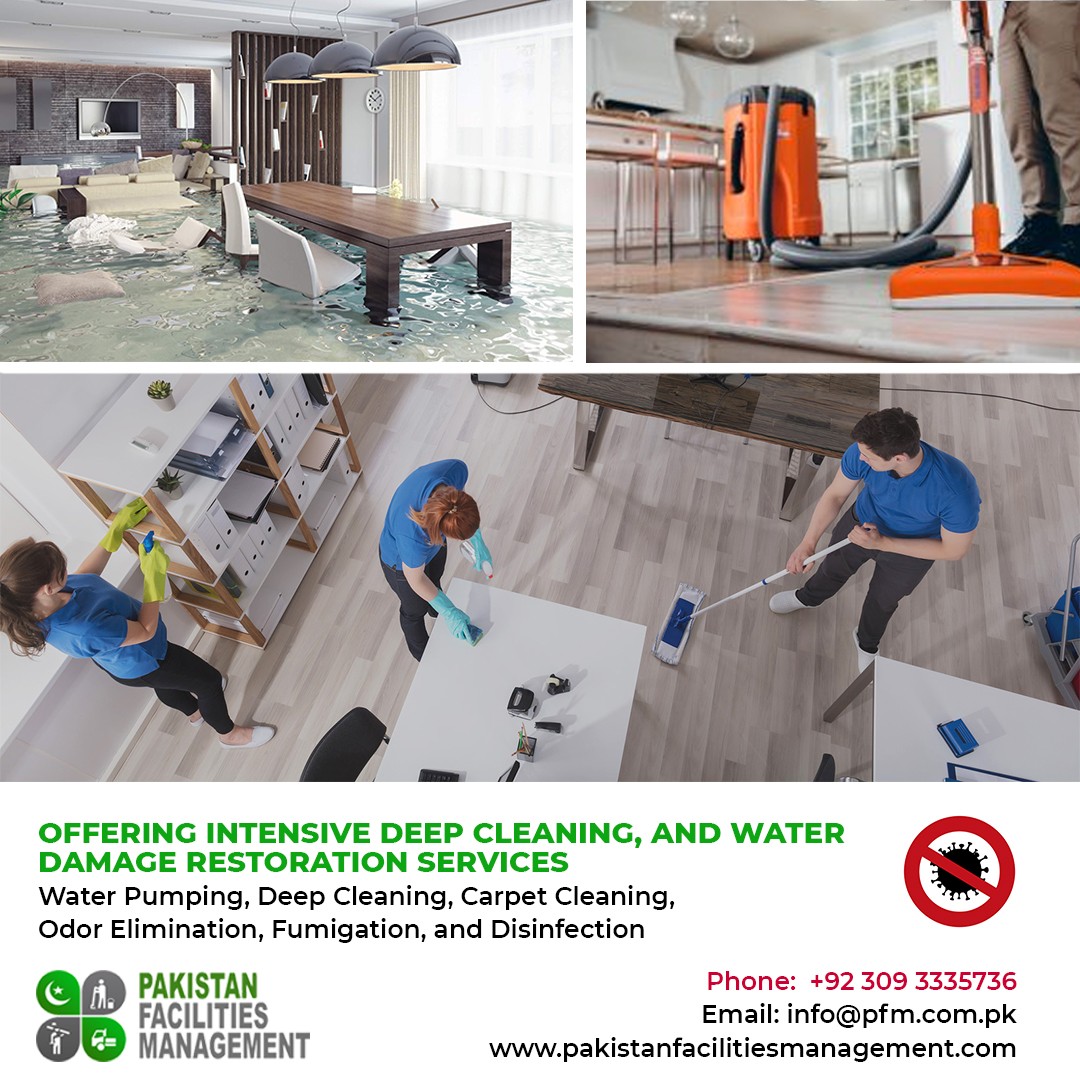 Our Certified Team of Professionals is Properly Equipped and Trained to carry out Deep Cleaning of every possible type of Surface to make sure it is restored to its original form after removal of dirt, odor and other pollutants. Leave it to us to ensure all your cleaning needs are taken care of!
An ISO 9001, ISO 14001 & ISO 18001 Certified Company, we have been in this field since 2003 and offering our services in Karachi, Islamabad, Rawalpindi, Lahore, and Peshawar.
Our Deep Cleaning and Water Damage Restoration Service Includes
Water Pumping
Deep Cleaning of all the Areas of the Premises
Deep Cleaning of all Windows (from the inside) and Glass Surfaces
Deep Cleaning of Furniture & Upholstery
Deep Cleaning of all the Electrical Light Fixtures and Air Conditioning Systems
Buffing of the Floor
Deep Cleaning of the Kitchen Area and Bathrooms
Deep Vacuuming of Carpeted area within the premises
Flood Water Damage Cleanup & Restoration
Odor Removal
Airduct Cleaning
Sewerage and Biohazard Waste Removal
Fumigation & Disinfection
Our Contact Details:
Email: info@pfm.com.pk
Phone: +92 304 1111736
Flood Relief Related Emergency Service: +92 309 3335736
Contact us to Deep Clean your:
Offices
Factories
Residences
Restaurants
Gymnasiums and sports arena
Hospitals
Schools
Roads, parking places etc.
Our experienced and purpose-trained teams come equipped with
HAZMAT Suits
Face Masks
Goggles
Rubber Long Shoes
Shoe Covers
Rubber Gloves
We also provide Custom-Tailored Deep Cleaning Solutions to suit the individual needs of our clients.
Contact us for more details:
Email: info@pfm.com.pk
Phone: +92 304 1111736
Flood Relief Related Emergency Service: +92 309 3335736

Our Team is also trained to carry out Disinfection of all types of Premises as well. To find out more about our disinfection service, you may check out the following video: